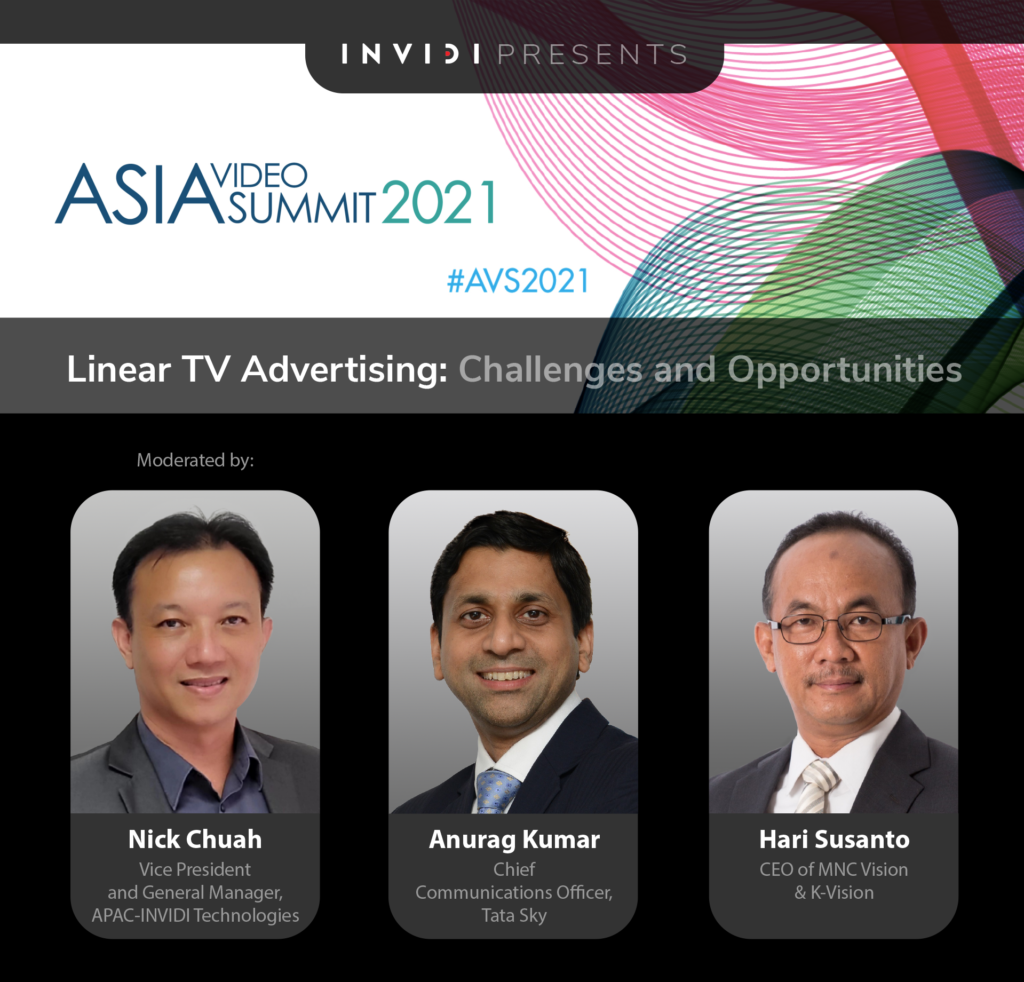 PRINCETON, NJ (November 18, 2021) – INVIDI's Nick Chuah hosted the Linear TV Advertising: Challenges and Opportunities panel earlier this week at the Asia Video Summit.
The panel focused on the rise of OTT viewership and its impact on the distribution of advertising dollars between linear TV and online TV. The panelists discussed how this paradigm shift has exacerbated the challenge of reaching fragmented audiences, and explored how linear TV and online TV can complement each other to achieve greater reach.
Nick was joined by distinguished industry veterans Anurag Kunar, Chief Communications Officer, Tata Sky and Hari Susanto, CEO of MNC Vision & K-Vision.
As the industry evolves INVIDI continues to develop ground-breaking technology and streamlined platforms to help you meet the challenges of delivering impactful advertising at scale for your customers. To learn more about our award-winning, patented technologies, and how INVIDI can help simplify, grow, and optimize your advanced advertising business, contact us.
Click here to watch the video of the panel.
---
About INVIDI Technologies
Founded in 2003, INVIDI is the preeminent developer of global addressable advertising solutions, offering both linear and digital addressability through its stack of products, including INVIDI "MediaHub," INVIDI Edge™, and INVIDI Pulse. INVIDI pioneered the development of addressable television, first in the United States and then globally in Europe, Latin America, Asia and Australia. INVIDI's proprietary technology is able to provide addressability on both local, programmer advertising inventory on all MVPDs (cable, satellite and telco) as well as via online television distribution. INVIDI is co-owned by AT&T, DISH Network L.L.C., and WPP. For additional information, visit www.invidi.com.
https://www.invidi.com/wp-content/uploads/2021/11/AVIA-INVIDI-Email-Graphic.png
1840
1919
INVIDI
https://www.invidi.com/wp-content/uploads/2017/11/logo-sticky.png
INVIDI
2021-11-18 16:46:03
2021-12-07 14:12:36
INVIDI's VP and General Manager, Nick Chuah hosted the "Linear TV Advertising: Challenges and Opportunities" panel at 2021 Asia Video Summit