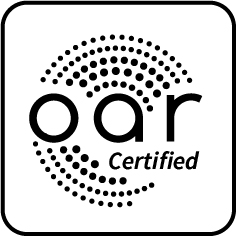 PRINCETON, NJ (July 1, 2021) – Global addressable solutions company INVIDI Technologies is now a certified Project OAR partner, bringing addressable advertising into all 11.2 million OAR-enabled VIZIO TVs across the U.S., it was announced today by INVIDI co-CEO/global chief technology officer Bruce Anderson.
Project OAR is a consortium of America's leading media companies created to establish a common technology for dynamic, addressable advertising management for TV. VIZIO is a founding partner of Project OAR, which stands for "Open Addressable Ready." The Open Addressable Ready standard helps optimize ad inventory and leverage unsold and underperforming inventory, while also highlighting how to target different demographics and specific regions with localized ad content.
"INVIDI's addressable ad server now reaches millions of smart TVs, in addition to its ability to serve linear addressable spots across DirecTV, Dish Network, Verizon FiOS and Frontier," explains Anderson. "INVIDI welcomes the opportunity to further support key programmers enabled within the OAR footprint."
---
About INVIDI Technologies
Founded in 2003, INVIDI is the preeminent developer of global addressable advertising solutions, offering both linear and digital addressability through its stack of products, including INVIDI "MediaHub," INVIDI Edge™, and INVIDI Pulse. INVIDI pioneered the development of addressable television, first in the United States and then globally in Europe, Latin America, Asia and Australia. INVIDI's proprietary technology is able to provide addressability on both local, programmer advertising inventory on all MVPDs (cable, satellite and telco) as well as via online television distribution. INVIDI is co-owned by AT&T, DISH Network L.L.C., and WPP. For additional information, visit www.invidi.com.
https://www.invidi.com/wp-content/uploads/2021/06/OAR_Certified_Black.jpg
237
237
INVIDI
https://www.invidi.com/wp-content/uploads/2017/11/logo-sticky.png
INVIDI
2021-07-01 07:00:06
2021-07-20 11:59:11
INVIDI Technologies wins Project OAR certification, bringing addressability to programming on all OAR-enabled Vizio televisions