INVIDI Technologies to integrate Decentrix's forecasting data into its new INVIDI Conexus™ platform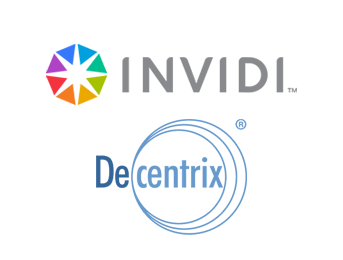 Princeton, NJ/Denver, CO (April 19, 2022) – Global addressable advertising solutions company INVIDI Technologies announced today that it will integrate campaign forecasting and scheduling optimization from omnichannel adtech company Decentrix into both its new groundbreaking INVIDI Conexus™ and INVIDI Edge® platforms.
Unveiled in February, INVIDI Conexus™ allows programmers to easily execute national addressable campaigns at an unprecedented scope across multiple distributors. Distribution partners include DISH Network, DIRECTV, and others. INVIDI Edge® is a unified premium video platform for distributors and programmers that delivers campaigns to any device. Both platforms are available both domestically and internationally.
Decentrix's integration will facilitate addressable advertising solutions that maximize the value of addressable inventory through more efficient utilization and allow programmers to leverage the INVIDI distribution footprint to expand into linear addressable advertising.
Both INVIDI and Decentrix will provide the required operator support for both the technology deployment and business process workflows to achieve maximum revenue outcomes. Users of both INVIDI Conexus™ and INVIDI Edge® will see a small Decentrix logo on their dashboards.
"Our goal for INVIDI Conexus™ is to provide a framework for best-in-class applications to be made available to networks to use as they start their journey into providing national addressable inventory," says INVIDI CEO and Global CTO Bruce Anderson. "Decentrix brings best of breed inventory management and forecasting technologies to the Conexus platform."
"As advertising platforms continue to proliferate and addressable advertising scales, global media enterprises will need our integrated solution combining the Decentrix forecasting and schedule optimization engine with INVIDI's Conexus™ and Edge® delivery platforms," said Wayne Ruting, CEO and Founder of Decentrix. "Our partnership will finally enable pay-TV operators to seamlessly deliver a consolidated addressable workflow solution that will help drive revenue growth for many years."
About INVIDI Technologies
INVIDI Technologies' patented advanced advertising technologies unlock the maximum value of premium video by uniting distributors, programmers, and data providers to ensure advertisers reach the right audiences when, where, and however they're watching. Our partners use INVIDI's software to produce billions of dollars in advertising revenue and relevant messaging, while protecting viewer privacy. INVIDI's Emmy® Award-winning technical excellence, industry-leading experience, and innovative linear and digital precision-based solutions are deployed in the United States and around the world. INVIDI is co-owned by AT&T, DISH Network L.L.C., and WPP. Learn more at www.invidi.com.
Since 2002, Decentrix has delivered globally focused data technologies and solutions which maximize advertising and content revenues across all media distribution platforms for Brand Advertisers, Telecommunications and Media and Entertainment companies. Decentrix's technology powers solutions for omnichannel planning, inventory optimization, rate card maximization, content ROI analytics and consolidated billing to maximize traditional linear, digital, addressable, and mobile media revenue opportunities through more efficient use of data and machine intelligence. For additional information, visit www.decentrix.com