News from Google India Video Summit 2023 🎥
Google partners with INVIDI to envision the future of video in India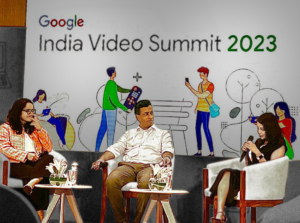 INVIDI's Managing Director for India and EMEA, Prasad Sanagavarapu, was invited by Google for a panel discussion on content monetization. The summit explored the convergence of Linear TV and Connected TV (CTV), offering insights on how this synergy benefits broadcasters, distributors, and operators. Prasad was joined by industry leaders Chanpreet Arora from #Viacom18 Digital Ventures and Sweta Jhunjhunwala from #Google India. We appreciate Google giving us the opportunity to share our expertise with other partners in the India region and we look forward to shaping the future of video in India together!
About INVIDI Technologies
INVIDI Technologies' patented advanced advertising solutions unlock the maximum value from premium video by uniting distributors, programmers, and data providers to ensure advertisers reach the right audiences when, where, and how they're watching.
INVIDI launched the world's first broadly deployed addressable advertising system. Its products enable cross-platform campaign execution to provide maximum reach and optimal viewer experience. Our partners use INVIDI's software to generate billions of dollars in advertising revenue and relevant messaging, while protecting viewer privacy. INVIDI's Emmy® Award-winning technical excellence, industry-leading experience, and innovative linear and digital precision-based solutions are deployed in the United States and around the world. INVIDI is co-owned by AT&T, DISH Network L.L.C., and WPP.